Description
Introducing our Soft Silicone Goggles, featuring a slight mirrored finish. These goggles are designed with your comfort and performance in mind, making them the perfect choice for your swimming adventures.
Crafted from soft silicone material, these goggles provide a snug and gentle fit, reducing any potential discomfort around your eyes. The soft silicone also ensures a reliable and leak-free seal, keeping water out and allowing you to concentrate solely on your swimming.
The slight mirrored coating on the lenses offers several advantages. Firstly, it reduces glare and brightness, making these goggles ideal for outdoor swimming in sunny conditions. Secondly, it adds a touch of style to your swim gear, giving you a cool and sleek look in the water.
Whether you're a recreational swimmer or a serious competitor, our Soft Silicone Goggles with a slight mirrored finish will enhance your swimming experience, providing clear vision and maximum comfort.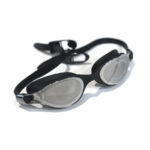 Soft silicone goggles, anti-fog, slightly mirrored, black
Your review
* Review is required
Email
* Email is required
Add photos or video to your review
Q & A
There are no questions yet