Description
Introducing our renowned Moulded Silicone Cap – a favourite among swimmers worldwide. This cap boasts an innovative ergonomic 3D design, meticulously crafted to ensure a comfortable and snug fit every time you hit the water. Whether you're training for competitions or enjoying your regular lane swimming, this cap is a must-have kit bag essential.
Constructed with high-quality silicone material, this cap is built to withstand frequent use, making it exceptionally durable for long-lasting wear. Unlike some caps that may cause discomfort or damage hair, our Silicone Cap is specifically designed to prevent snagging or pulling, offering a hassle-free experience.
One of the cap's most significant advantages is its ability to shield your hair from the harmful effects of chlorine. By creating a smooth outline in the water, it forms a protective barrier, helping to maintain the health and vitality of your hair.
Invest in the ultimate swim accessory, designed for performance and comfort. Dive in with confidence, knowing that our Moulded Silicone Cap has your hair's well-being in mind while providing an optimal swimming experience. Join swimmers worldwide who trust in the reliability and excellence of our Silicone Cap for their aquatic adventures.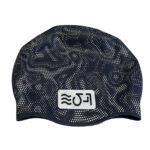 Moulded silicone cap, black
Your review
* Review is required
Email
* Email is required
Add photos or video to your review
Q & A
There are no questions yet